6 mi. west of downtown (via Hwy. 62W) at Blue Spring Rd.
Eureka Springs, Arkansas
(479)253-9244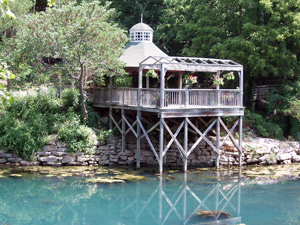 One of the largest cold springs in Arkansas created a deep clear 54° pond in a hollow adorned with a wealth of flowers, flowering bushes and mature trees. An interpretive center and gentle trails extend throughout the arboretum to exhibits about Indian tipis and pioneer artifacts.
Return to Eureka Springs page