downtown at 173 S. Main Street
Eureka Springs, Arkansas
(479)304-8998
Serves Lunch and Dinner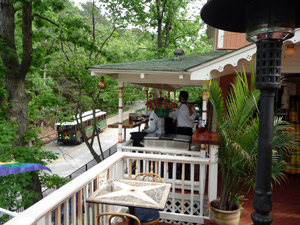 Casa Colina is one of the region's most distinctive new (opened in 2009) restaurants. Classic and innovative specialties from various regions in Mexico like shrimp and mushroom crepes or chicken-stuffed chile rellano offer an appealing combination of flavor and textures. There are several small comfortable wood-trimmed dining rooms on several levels and a nifty dining proch adjoins overlooking the main access to downtown. A fountain court is also used for dining in season.
Return to Eureka Springs page