downtown at 22 S. Main St. #G (downstairs)
Eureka Springs, Arkansas
Breakfast and Lunch. Closed Wednesday.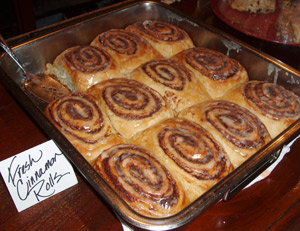 The area's top breakfasts include omelets at their fluffy tender best with all sorts of ingredients. Also excellent are homemade muffins of the day like strawberry-banana, and unusual dishes like sour cream pancakes with blueberries, plus a wealth of hot specialty drinks. A display case at the entrance shows off the baker's talent with luscious cakes and pies. Rock walls line several dining areas further distinguished by colorful wall art including a heraldic fantasy painting featuring an arresting nude. Some evenings you'll luck into live entertainment along with their memorable desserts.
Return to Eureka Springs page