1 mi. west of downtown on Highway 62 West
at 165 W. Van Buren St.
Eureka Springs, Arkansas 72632
(479)253-8667
8 units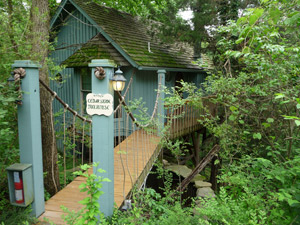 This remarkable adult getaway features up-close treetop views from contemporary cottages suspended on poles more than twenty feet off the ground. Each room has a romantic two-person whirlpool tub (many are heart-shaped) and private balcony. Each room is well furnished in handcrafted woodsy motif and includes floor-to-ceiling windows, a wood-burning fireplace and a full kitchen.
Return to Eureka Springs page