just south of downtown
at Tremain St. & Liberty Ave.
Mount Dora, Florida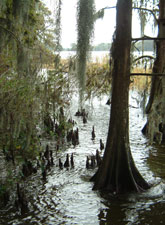 Palm Island Park offers one of the most beautiful nature walks in Florida. Boardwalks extend for one-third of a mile through semitropical cypress, palms and other lush foliage out onto the lake. Wildlife is abundant–you might see a bald eagle, raccoon or alligator. Picnicking and fishing are also enjoyed here and in nearby Gilbert Park, distinguished by a photogenic lighthouse on the shoreline.
Return to Mount Dora page