Schlitterbahn Waterpark Resort
381 E. Austin St.
New Braunfels, Texas
(830)625-2351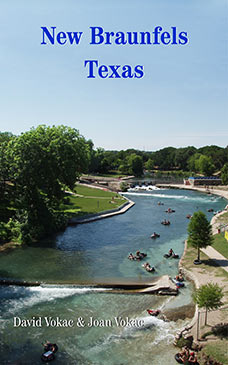 New Braunfels, Texas:
Complete guide available
as eBook featuring
23 attractions
26 restaurants
and 30 lodgings
Schlitterbahn is America's quintessential celebration of water—just for the fun of it. The same renowned springs that create the Comal River are the source for crystal-clear water used in some of the park's slides and runs, including one that ends in the river. The picturesque stream borders the sprawling, verdant complex where towering trees and noble oaks, gardens and floral accents contribute to the park's acclaim.
A German-style castle towers over more than forty attractions including the Hillside Tube Chute which winds through a garden setting from the top of the castle into a large Lagoon Pool. Water rides that originated at "Slippery Road" include the world's first uphill roller coaster; tidal-wave river; an ocean-sized continuous wave for surfing; and "Dragon's Revenge," a thrill ride full of special effects. Still the greatest thrill ride is "Master Blaster," worth a (usually) long wait from the top of the highest tower in the complex. It involves a series of roller coaster drops and rises propelled by massive jets of water. There are over three miles of waterslides and flumes, wave pools, water playgrounds including three uphill coasters and lazy rivers.
New in 2013, the "Aqua Veyer" makes it possible to enjoy "the Falls," the world's longest set of continuous flumes, chutes, falls and rapids that endlessly loop through the park's east section. The award-winning new attraction rivals an earlier pièce de résistance—the Raging River Tube Chute, the world's longest tube chute lasting 45 minutes. More than a mile of interconnecting curves, dips, swirls and whitewater wind from one end of the park's original section to the other, meandering through buildings and tunnels, under bridges and over waterfalls, past fragrant trees and flowers from the castle to your ultimate spill into the Comal River where you may find yourself eyeball-to-eyeball with a curious turtle.
There are also plenty of places to relax with food and drink. Adults especially enjoy the "Biergarten Heated Pool and Swim-up Bar," where you might feast on a turkey leg with a cold adult beverage while relishing the surrounding action.
"Stay where you play" in the renowned vacation complex. Lodgings are spread throughout all three sections of the waterpark, and nearby within walking distance. Guests in all of these resorts, condos, apartments and motel-style units are eligible for (fee) special stay-and-play packages ranging from unlimited use of the entire waterpark to discount admission to the rides, plus early ride access one hour ahead of the general public, and selected evening access to Boogie Bahn. Guests can preregister and receive early ride admission in Blastenhoff for your first night's stay even though you cannot access your room until later in the day. All lodgings include access to year-round heated pools, and rooms in all complexes have a refrigerator and microwave. Rooms adjoining the rides are especially convenient when spending all day at the waterpark.