89 Oakview Dr.
Waynesville, North Carolina 28786
(828)452-0991 (800)563-1236
10 units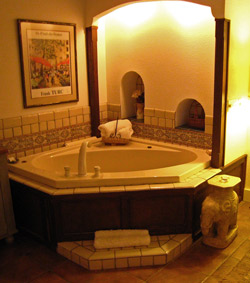 The Yellow House is one of North Carolina's most outstanding bed-and-breakfast getaways. A handsome mansion and an outbuilding top a hill amid lawns and gardens that include a pond, stream, and waterfall. Gourmet breakfast and afternoon wine and appetizers are complimentary. Each spacious, luxuriously furnished unit has all contemporary amenities. Some also have an in-room large whirlpool, raised gas fireplace, refrigerator, and private deck with a forest and mountain view.
Return to Waynesville page